Sensé products focus on cellular health of the skin and utilize cutting-edge technologies to deliver visible results while being better for you.
Sensé beautiful science® skin-care products offer an innovative approach to skin care. With groundbreaking, patented Self-Preserving Technology, Sensé products contain no added chemical preservatives—meaning they stay fresh naturally—so they are more gentle and healthy for even the most sensitive skin.
Developed by USANA Health Sciences, Sensé products are formulated to properly nourish and hydrate your skin's cells. The Sensé beauty regimen is designed to be a comprehensive approach to skin and hair care that takes into account the nutritional needs of both the skin and body.
HEALTH BASICS
---
Decrease in the appearance of fine lines and wrinkles
Increase in skin smoothness
Increase in skin elasticity
Increase in skin moisture content
Decrease in signs of dryness
SENSÉ SKIN-CARE REGIMEN
---
The skin you've always wanted can be yours with Sensé. Following the Sensé Ultimate Beauty Regimen, you can experience smoother, more radiant skin. Start with the Basics, a 3-step program to cleanse, tone, and replenish cells—where healthy skin starts. Then choose from the Enhancers, a collection of targeted treatments addressing your individual beauty concerns.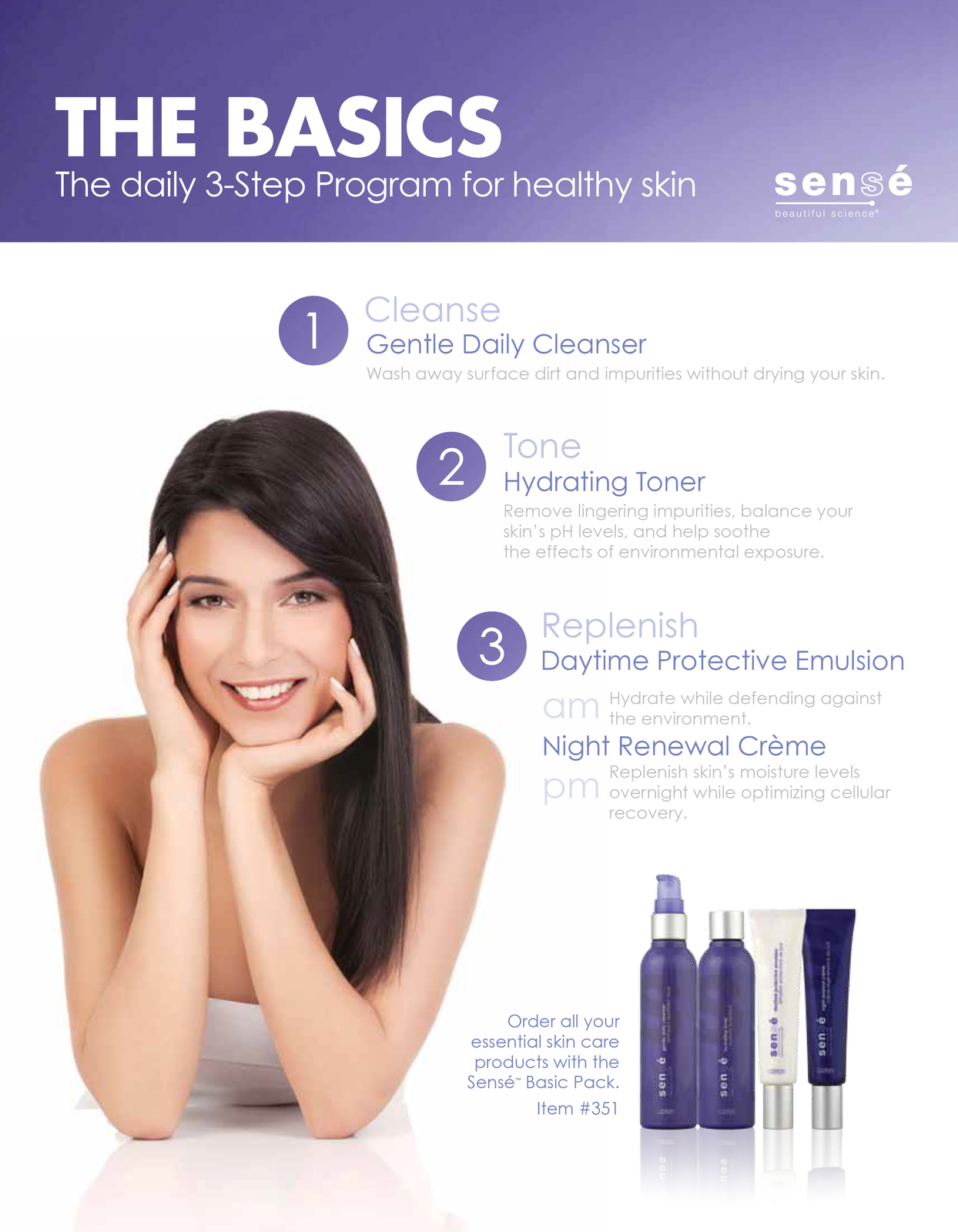 SENSÉ BEAUTIFUL SCIENCE
---
USANA takes the science of Sensé very seriously!
"Our patented preservative technology will change skin care as we know it. The cosmetic industry has been trying to discover a way to preserve products without adding parabens or harsh chemicals for years, and by introducing our new self-preserving technology in the Sensé product line, USANA continues to establish itself as the leader in the industry. The Sensé skin-care line has raised the bar for cosmetic companies around the world."
— Dr. Myron Wentz, Ph.D., internationally recognized microbiologist and immunologist and 2007 Einstein Award Winner
TRY THIS PRODUCT
Save upto 10% on retail Price today!
Receive an additional 10% off by signing up for convenient recurring deliveries with Auto Order.
These recommendations do not replace medical advice. Always follow the recommendations of your physicians.
These statements have not been evaluated by the Food and Drug Administration. This product is not intended to diagnose, treat, cure, or prevent any disease.